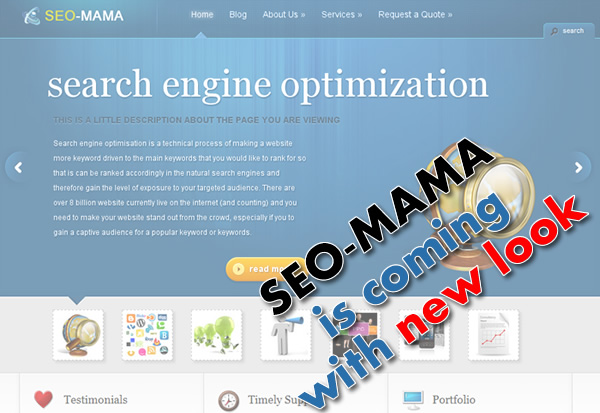 SEO-MAMA is one of the worlds leading organic Website Optimisation agencies, we have a highly skilled team of Search Engine Optimisation (internet marketing) specialists in house with combined experience of over 20 years and countless first page results. SEO-MAMA (SEO Company) has traditional values and a strong reputation for customer service, communication and professionalism for each and every Website Optimisation client, we offer a totally transparent service which cannot be beaten, including a personal client login allowing the tracking and reporting of your Search Engine Optimization progress.

Search Engine Optimisation (SEO) is considered to be one of the most cost effective promotional tools in the marketing arsenal of a business for generating a higher volume of targeted sales. At SEO-MAMA our team use the latest ethical techniques with an aim to drive valuable targeted traffic via the natural search results of Google, Yahoo! and MSN. This type of Search Engine Marketing campaign is run 24 hours a day, constantly increasing your brand name visibility not just to your country but to the world, and maximising the relevant traffic received to your Website.

Our client is based on America (USA), Canada, Australia, United Kingdom (UK), United Arab Emirates (UAE), Kuwait, Qatar, Saudi Arabia (KSA)


More About Search Engine Optimisation
Search Engine Optimisation (Optimization) is the practice of proactively managing the evolution of a website by modifying both internal and external aspects in order to increase the traffic the site receives from search engines. Search Engine Optimisation (SEO) is a very broad field, with various aspects encompassing a variety of disciplines ranging from Web design and development to public relations.
Search Engine Optimisation is about creating value for the end user. Effective Website Optimisation (Optimization) ensures that your website presents exceptional value to the user experience, thereby appreciating in value to the Search Engines. Whilst many think Search Engine Optimisation is about manipulating search results, what SEO is really about is making sure that your website delivers what the user wants - and the search engine spiders can interpret. Any site that follows these basic principles will do justice to your organisation and the service at hand, and once this is in place your website will start to rank for more competitive keywords.

Search Engine Optimisation (Optimization) is a powerful tool for Internet marketing, and when harnessed correctly - you can see website traffic and conversions multiply providing excellent return on investment. Website Optimisation through SEO can effectively translate into increased profitability for your business by increasing the exposure of your website and brand.
Mobile Search Engine Marketing

Mobile search engine marketing seems poised to be the next big thing in the world of search. Last month Google Mobile launched its first advertising programme targeted at mobile phone Internet users in Japan. While this might seem to be just a test market, it undoubtedly heralds a new era in search engine marketing.

Microsoft have proactively pushed their own mobile platform for the past few years now, and it is just a matter of time before they will announce their own mobile advertising service.

Furthermore, T-Mobile and Google formed a partnership last year, which ensured that Google would be the home page for all T-Mobile customers browsing the web on their mobile handsets.

So what does all of this mean for business?

Mobile Search Engine Advertising

Google is pioneering the way to reach wireless Internet browsers through the technology it knows best - search. Mobile phone marketing through SMS is old news. A lot of companies still use it, very effectively, especially to promote mobile games, ring tones, events and regional specials. However, the reach and effectiveness of such advertising is limited by the same factors that limit bulk emails - lack of targeting.

Mobile search engine advertising on the other hand allows businesses to reach potential consumers who are looking for their services, anywhere, even far away from a PC or wired network connection.

Like all new channels, the mobile search advertising medium needs to be tested carefully, to avoid alienating users and continuing to provide useful data services on the go whilst maintaining profitability through delivery of relevant ads.

Google Mobile Japan currently displays ads on the top and bottom of their search results. Only time will tell if this is the most effective placement strategy for them.

Mobile search advertising
Mobile Marketing Services

Only a handful of companies offer mobile marketing services worldwide. SEO-MAMA is one such pioneering mobile Search Engine marketing company.

Is Mobile Phone Marketing Right For Your Business?

Given that mobile phone marketing is in its infancy at present, it might not be the most effective medium for all businesses to market their products and services. When evaluating your company's future sales and marketing strategy you should probably think about your audience, and when they might use a mobile phone or wireless handset, if at all, to search for your products or services.

Hotels are an obvious example of a business that should ensure mobile users searching for a room in a particular city, town or locality can find the hotel and book a room online or by calling the hotel front desk. Restaurants, nightclubs, taxicabs, cinemas, automobile service stations, map services and escort services are other similar examples. Google Mobile's current offering in Japan gives users the choice of clicking on an ad to view the website or calling the advertiser directly from the mobile phone.

Businesses such as professional b2b service providers and mortgage lenders, on the other hand, will rarely be searched for in a hurry or by people on the go. Such companies are better off waiting for the mobile Internet market to mature and become a more established medium before they start advertising on mobile search engines.